Wir haben Welpen!
Der Zwinger Elite House informiert über seinen Wurf aus der Verbindung
Indhira Elite House x Ilane della Piancarda
Die Welpen sind am 23.02.2016 geboren - es sind 2 schwarze Hündinnen und 5 braune Rüden.
Die Welpen aus dieser Verbindung werden nur an richtige Dobermann-Liebhaber abgegeben, besonders an diejenigen, die Sport und Ausstellungen mögen.
Wegen des Kupierverbots in Polen seit dem 01.01.2012 werden die Welpen Schwänze und lange Ohren haben.




We have puppies!
Kennel Elite House informs about born litter on February 23rd 2016 out of the combination:
Indhira Elite House x Ilane della Piancarda
Therer are 2 black females and 5 brown males.
Puppies from this combination will be available only for real dobermann lovers, especially who like to work and show.
Due to docking/cropping ban in Poland up from January 2012 puppies will have natural tail and ears.

Rohan Elite House, 16 Wochen.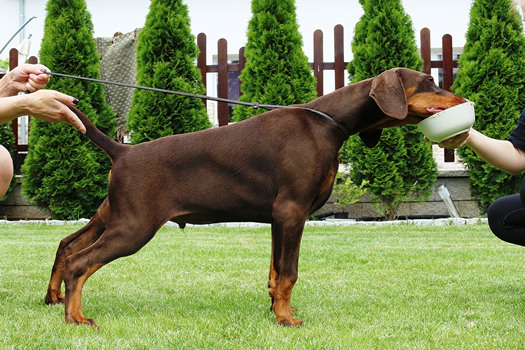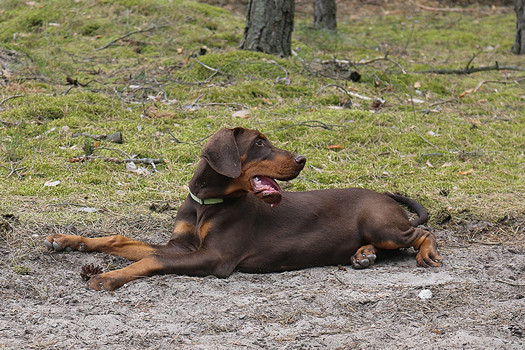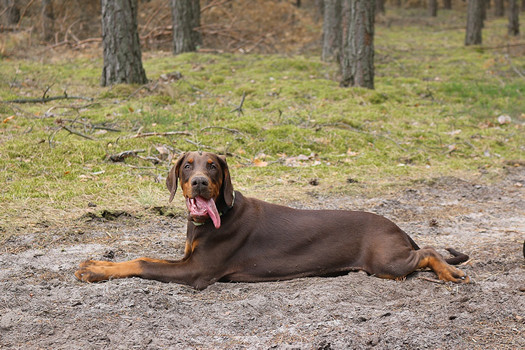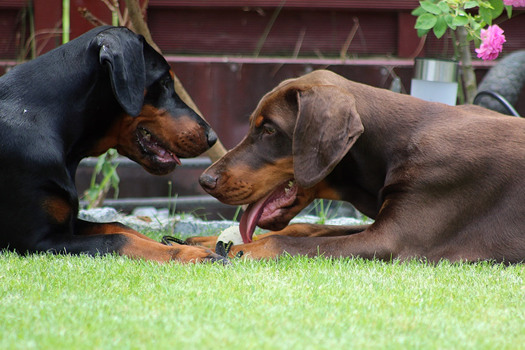 Ilane della Piancarda

Indhira Elite House

HD-B, DNA-tested, cardio-free (holter 24h 2015) ZTP V1a
Trofeo Caliandoro 2015 Open class Winner
Trofeo Caliandro 2014 - Best Junior Male
Trofeo Vesuvio 2014 - Best Junior Male
Trofeo Vesuvio 2013 - Best Junior Male
Speranza AIAD 2013

HD-A, DNA-tested, Echo EKG Doppler - normal (Oct 2015)
BH, ADPr., ZTP V1a (Armin Hoppe)
Polish Champion
Slovakia Champion
Welpen Stammbaum / Puppies pedigree
Vater / Sire:
ILANE della Piancarda
Trofeo Caliandro Open class Winner ZTP V1a, HD-B
IRON di Casa Fox
ZTP V1b, HD-A
GRANT di Villa Conte
INT-IT Ch, AIAD Ch, AIAD Jr Ch, Riproduction Ch. ZTP, SchH III, HD-A
NITRO del Rio Bianco
PETRA di Villa Conte
ENDORA di Casa Fox
HD-A
BATTISTA di Casa Fox
EVERZIGOVA di Poggio Piano
RUBINA Darafal
HD-A
PATHOS delle Querce Nere
IDC Sg'06, AIAD Sg'07, IDC Jr Sg'05, IT Ch. ZTP V1b, IPO I, HD-A
URBANO del Diamante Nero
NINETTE della Sinvessa
NIOBE del Palatino
ZTP V1a, SchH I, HD-A
DELON Dell'Astronascente
CABIRIA del Palatino
Mutter / Dam:
INDHIRA Elite House
PL-SK Ch AdPr, ZTP V1a, HD-A
ZORDAN ZEWI del Citone
IDC-AIAD-Trofeo Piero Caliandro-World Winner, AIAD Jr Winner, ZTP V1a, IPO III,
HD-A
GINO GOMEZ del Citone
IDC-World-DV Winner, ZTP, FH,
SchH III, angekört 1a, HD-A
ASTOR del Citone
ARIELLE D'AMOUR del Citone
GIADA di Villa Conte
SchH I, ZTP V1a, HD-A
NITRO del Rio Bianco
PETRA di Villa Conte
CIARA Elite House
INT-CZ-SK-NL-PL-Lux-Ch, EDTS-DKSR Winner, IDC '08
CW, AdPr, IPO I, ZTP V1b,
HD-A
PIMM'S NUMBER ONE iz
Doma Domeni
Int-Grand-Rus-Rom-Lit-Geo- Blr-Srb-Bul-Cro-RKF-Club Ch, V-ce Euro W,
Multi IDC CW, ZTP V1a, IPO I, HD-A
JIVAGO van het Wantij
MIRAKEL von der Räuberhöhle
YALLA iz Slavnoi Stai
PL-Lux-Ch, AdPr, ZTP V1b, HD-A
TIGR iz Slavnoi Stai
U'WEMBLY iz Slavnoi Stai